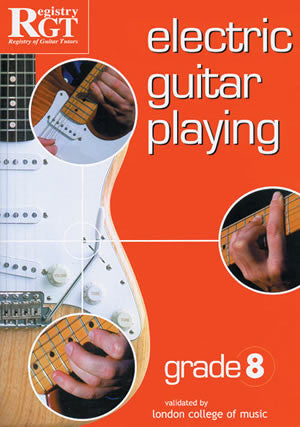 RGT - Electric Guitar Playing, Grade 8 1898466580 upc 796279101585
---
See if you're a top grade guitar player... This book is the final grade in the acclaimed series by the Registry of Guitar Tutors.
This book covers all the material needed for the Registry of Guitar Tutors Grade Eight electric guitar examination, enabling you to gain an internationally recognized qualification. Ideal for advanced players and the serious electric guitar student.
The material covered includes: modes and scales in multi-positions across the fingerboard; extended arpeggios and chords; common chords played in all areas of the fingerboard; exercises to use the chords with chord charts; studies to show the use of scales and arpeggios for lead playing, including modulations; full details of the musical knowledge spoken tests; aural assessments to develop a high level of skill in recognizing rhythm, harmony and pitch.
Whether or not you are interested in taking an RGT exam, studying this course will help you achieve your full potential as a guitarist by developing all aspects of your guitar playing, increasing your knowledge of specialist electric guitar techniques and improving your understanding of the music theory that relates to electric guitar playing.
Learn More About
RGT
.
---
Share this Product
---
More from this collection