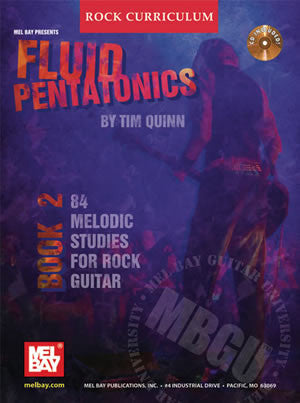 MBGU Rock Curriculum: Fluid Pentatonics, Book 2 20681BCD upc 796279098144
---
Fluid Pentatonics for Guitar: 84 Melodic Studies for Rock Guitar is a comprehensive manual for developing blistering pentatonic motion that moves freely over the entire fretboard, using position-shifting slides, hammer-ons, and pull-offs for speed and fluidity. Emphasis is on overcoming the restrictive nature of traditional pentatonic "box" scale fingerings by developing pathways that continually shift between and connect the five pentatonic 'boxes'. Complete whole-neck control is developed through an extensive series of repeating melodic exercises and etudes.

Section One presents 35 sequential whole-neck studies, each of which spans the range of twelve frets, thus unlocking virtually every possible position shift.
Section Two develops complete non-shifting control through a series of 15 interesting and useful sequential patterns, applied to each of the five pentatonic "boxes".
Section Three presents 10 whole-neck/position-shifting studies that are non-sequential in design, in order to develop unpredictable melodic flow.
Then, in Sections Four and Five, two vital extensions/variations of the pentatonic scale are fully explored; the Hexatonic and Dominant Pentatonic scales.

The result is a complete matrix of pentatonic moves and connections that allow the guitarist to float freely across the entire fretboard without being locked into any single particular pentatonic "box". The resulting sound is definitely NOT bluesy (very little string bending), but closer to a modern jazz-rock fusion style; fluid and unpredictable. Great for all guitarists in rock, jazz, fusion, blues, country, and pop styles who want to unlock complete whole-neck freedom and develop a fast, modern pentatonic sound. CD included.

Presented in standard notation and tablature.
---
Share this Product