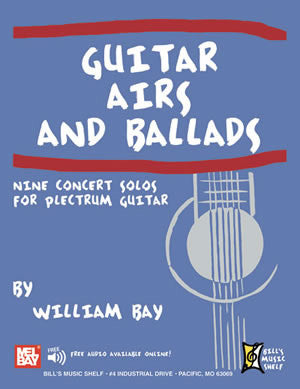 Guitar Airs & Ballads 22039 upc 796279110563
---
Here are nine solos for plectrum guitar written with thetradition of the Celtic ballad and Scottish Aire. Many of thesolos call for a 7 string guitar but can certainly be played ona 6 string. I have shown alternate notes for the low 7 stringpedal tones in the tablature.

The solos give the guitarist an opportunity to playconcert settings with a maximum of expression. I haverecorded all of the solos and they are available as a freeinternet download.

This book is a sequel to my solo collection entitled"Guitar Meditations" (MB22029). I have authored both solocollections to address the need for serious compositions forthe plectrum guitarist wanting to play in concert or recital.The music in each collection draws from a wide variety ofinfluences and utilizes many contemporary harmonic concepts.I hope you enjoy performing and listening to thesesolos."
---
Share this Product
---
More from this collection