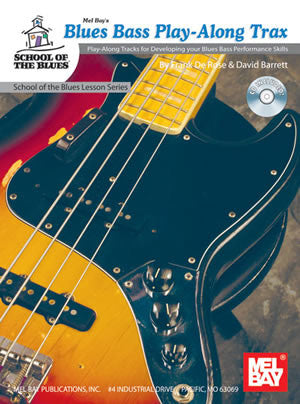 Blues Bass Play-Along Trax 21064BCD upc 796279099479
---
Welcome to the School of the Blues Lesson Series! This book and recording were created to help give you context to all the music you worked so hard to learn. The recorded Play-Along Trax have no bass. This gives you the opportunity to work on your blues bass patterns. I have used several different keys and tempos throughout these Play-Along Trax. These Play-Along Trax give you a very realistic example of how you would play live with a band.

Music examples are kept fairly simple to make sure this book is accessible to bass players just above the beginning level. For best understanding of these techniques refer to Mel Bay's Blues Bass, Level 1 (MB21063BCD).

Lastly, all the references in this book are written for a right-handed four string electric bass. If you play a 5 string bass you just need to extend the examples to include your B string. If you play left-handed then you need to reverse any references to the left and right hands. We will use standard music notation along with bass tablature (TAB) for this book.
---
Share this Product
---
More from this collection